Home Invasion - Westmont
January 02, 2015
On January 2, 2015, at approximately 7;00 a.m., the Westmont Police Department responded to a call of a Home Invasion/Sexual Assault located in the 1100 block of South Williams Street, Westmont. A senior citizen reported that she was awoken at approximately 5:00 a.m. by a suspect at gunpoint. The
suspect then forced the victim to drive to an ATM and retrieve cash from her bank account. The victim dropped off the offender in the area of 83rd Street and Janes Avenue, Woodridge. The victim was subsequently transported to a hospital for treatment and is recovering from her injuries.

The suspect is described as a dark skinned male, between 20 to 30 years of age, 5`10" to 6`00" tall, stocky build, wearing a dark colored, possibly leather, jacket and armed with a handgun.

The Westmont Police Department is offering a S1,000 reward for information ieading to the arrest and prosecution of the suspect. Anyone with information about this investigation should contact the Westmont Police Department lnvestigations Division at 630-981-6319 or email chiefofpolice@westmont.il.gov. The DuPage County Sheriff`s Office and DuPage County State`s
Attorney`s Office is assisting with the investigation. Anyone with information on this crime or any other unsolved crime and would like to remain anonymous can contact Crime Stoppers.

The Westmont Police Department reminds its citizens to be aware of their surroundings and to secure their residence even when they are home. As always, please dial 911 in the event you observe suspicious activity.

For more information, contact Deputy Police Chief Jim Gunther at jgunther@westmont.il.gov or call 630-981-6341.
---
Radio Shack Armed Robberies
March 05, 2013
STATUS
: APPREHENDED
Crime Stopper organizations across north east Illinois are seeking information on a series of armed robberies dating back as far as March 5, 2013. Radio Shack stores in the Chicago land area have been the target of two Afro-Americans males in their mid-twenties armed with handguns (see pictures below). Upon entering the retailers, the two robbers display their handguns; take control of all the employees and customers, then demand cash and secured inventory in the form of cell phones.
The DuPage County Crime Stoppers is offering a reward not to exceed a $1000 for information leading to the arrest and filing of criminal charges against these offenders. If you have any information on the above suspects contact Crime Stoppers one of three ways, Text the keyword DUPAGE then your tip to CRIMES (274637), Type in your tip at www.dupagecrimestoppers.com or Telephone Crime Stoppers at 800-222-Tips (8477). Crime Stopper tipsters are guaranteed anonymity.
Independent of Crime Stoppers an additional reward up to $10,000 is also being offered for information that leads to the arrest of these suspects.
Remember if you See Something… Hear Something… Say Something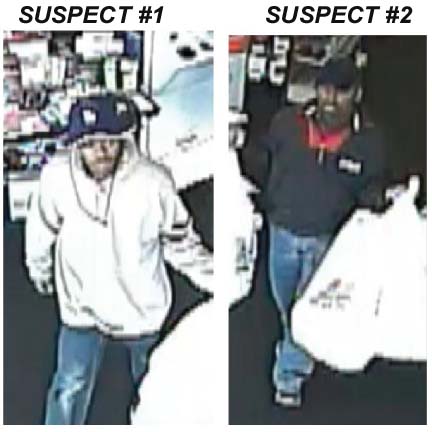 ---
Armed Robbery - Wheaton Subway Sandwich Shop
December 20, 2011
Armed Robbery Reported at Subway
WHEATON, Ill. – An armed robbery occurred on the evening of December 20, 2011. At approximately 7:00 p.m., a lone male suspect entered the Subway sandwich shop located at 2211 N. Gary Ave. The suspect displayed a handgun and ordered the store clerks to surrender money from the register. The clerks in fear of their life gave the suspect cash. The lone suspect fled from the store on foot. No one was injured during the robbery.

The suspect was described as;

Male;
White;
25 – 35 years of age;
Approximately 6'0" in height;
Weighing approximately 200 pounds;
Wearing a grey sweatshirt, black jacket, blue jeans and black gloves:

The suspect displayed a semi-automatic pistol.

A St. Charles Police Department canine assisted Wheaton Police Officers in the search for the suspect. No suspect was found. An undetermined amount of currency was taken.

Wheaton Police Detectives are investigating the robbery. Anyone with information is encouraged to phone Detective Commander James Volpe at 630-260-2055.

---
Illinois State Police Unsolved Crimes
August 01, 2011
Click here to view the Illinois State Police Unsolved Crime web page.
---
DuPage County Sheriff's Office Unsolved Crimes
August 01, 2011
Click here to view the DuPage County Sheriff`s Unsolved Crime page.
---